Are you interested in discovering what all the hype around Club Dynasty is about?
Keep reading to find out why our spa is unique and a must-see. We can't wait to show you even more of what we have to offer when you visit us in person.
Located in Toronto, Canada, Club Dynasty is an executive health spa that offers deep-tissue or Swedish massage with a sensual, erotic massage twist. In addition to our awesome massage options, we also offer a selection of spa amenities that we know will impress you.
When it comes to exotic massage and other spa services in the Greater Toronto Area, we are the standout choice!
Situated on more than 10,000 square-feet, Club Dynasty has become a staple among hobbyists looking to relax with spa services and erotic massage near Toronto. After being in the business for more than 30 years, we know exactly what our clients need to feel relaxed and rejuvenated. We have worked hard to create a serene and spotless environment suitable for enjoying yourself and getting the relaxation you deserve.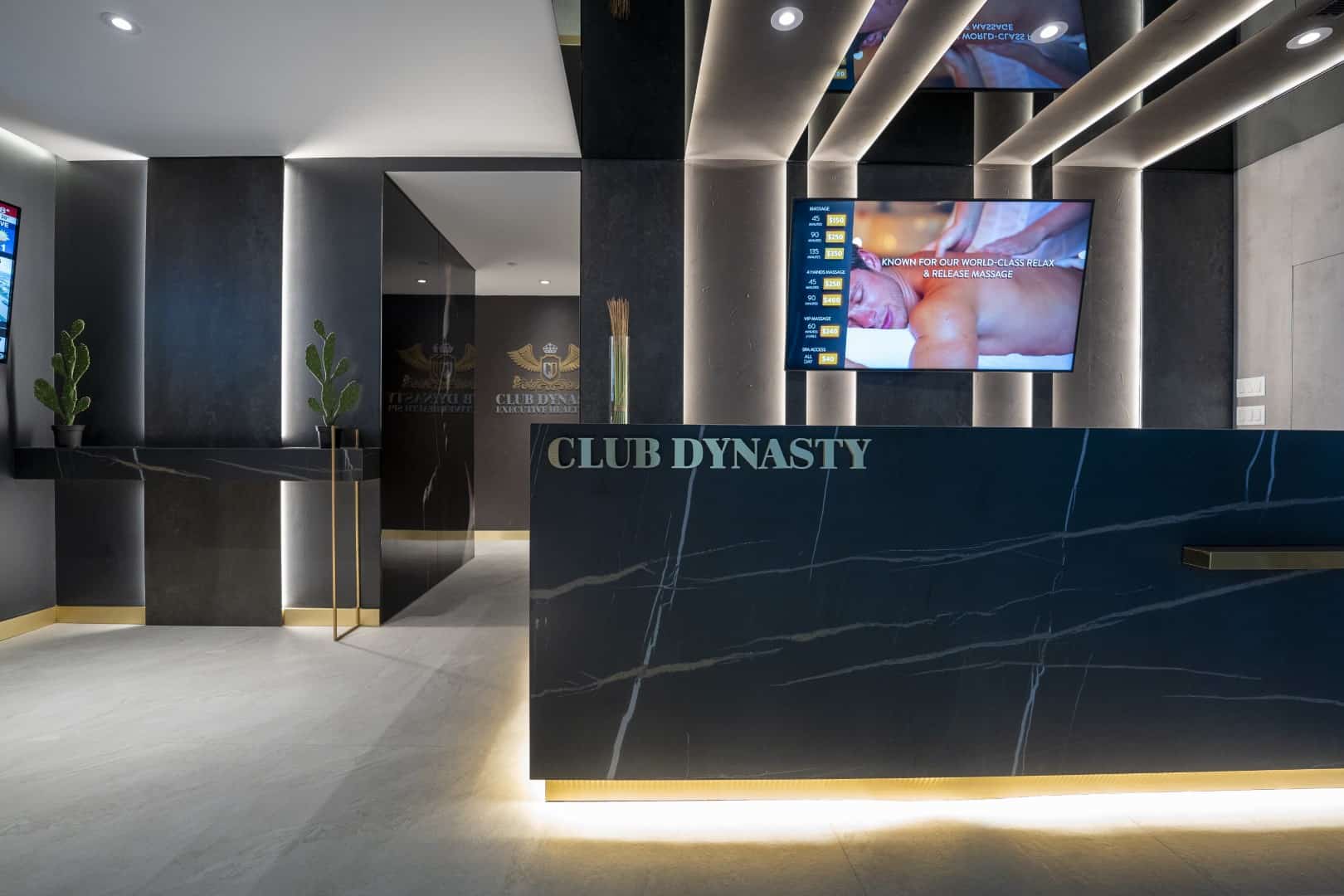 An Unbeatable Spa Experience!
At Club Dynasty, we have designed an exclusive spa and erotic massage experience unlike anywhere else in the Toronto area. Our spa has everything you need to immerse yourself in refined relaxation.
Every inch of our 10,000-square-foot location is designed with your relaxation and comfort in mind to help you release any tension weighing you down. Within a space that features unparalleled ambiance, comfortable chairs, and clean, effortless lines, we cultivate an environment that has you feeling better as soon as you arrive.
Guests will enjoy all of our amenities, from our relaxation lounge to our steam room and massage suites, along with our custom massage beds, and state-of-the-art showers, and much more.

Incredible deep-tissue or sensual massage with an erotic twist. Whether you opt for a 45, 90, or 135-minute erotic massage, or a 4-hand massage, we've got just the thing to help you find the release and relaxation you've been seeking.

You can enjoy our large HD TV's, leather La-Z-Boys, couches, free Wi-Fi, and complimentary drinks and snacks as you kick back in our relaxation lounge. It's the perfect place to relax, grab a bite, get a foot massage, and catch up.

Refresh your senses in our state of the art steam zone. The heat and humidity create the perfect environment where you can free your mind and relax into the peaceful surroundings.

Enjoy a good sweat in our brand new infrared hot sauna before or after your massage. It provides many health benefits, including improved circulation, along with being a relaxing and peaceful experience.

Overall, using a hot tub can be a great way to improve your physical and mental well-being, and can provide a fun and relaxing way to unwind after a long day. Using a hot tub before bed can help to relax your mind and body, leading to better sleep.

Sitting in ice-cold water may sound a bit crazy. Still, people worldwide do it regularly for its potential health benefits. An ice bath is a type of cold therapy where the body is submerged in cold water, typically between 50-59°F (10-15°C) for a short period of time, usually no more than 3-5 minutes.
Questions About Our Facilities and Services
We go into more detail about frequently asked questions over here but we'll also cover a few common questions and answers right now!
Club Dynasty is located at 7850 Woodbine Avenue, Suite 101 in Markham, Ontario. We serve the Greater Toronto Area, as well as visitors who are looking for a trip experience they'll never forget — whether vacationing or in town for work.
Our spa is located just north of 14th Avenue, south of the 407 Highway on the west side of Woodbine Avenue. We offer two parking options: one lot out front and another, more private lot in the back of the building. We also have entrances on either side of the building.
You can get to Club Dynasty by car from the Toronto Pearson Airport or downtown Toronto in about 40 minutes, and there are multiple ground transportation options from the airport or downtown to our spa, including taxis, Uber, or Lyft.
Along with our impeccable facilities, our friendly, outgoing, and experienced staff is what sets us apart in the industry. Our staff receives professional training to ensure you have the best experience possible at Club Dynasty.
No appointment is necessary to enjoy our massage and spa amenities. Our talented and professional staff are eager to give you the experience you're looking for in a clean, classy, and beautiful environment.
Whether you're looking for a quick 45-minute erotic massage before you have to get back to work or you're ready to devote more time to relaxation, Club Dynasty has what you need! If you have more questions about Toronto exotic massage companies or our specific location and services, please call or come by today.